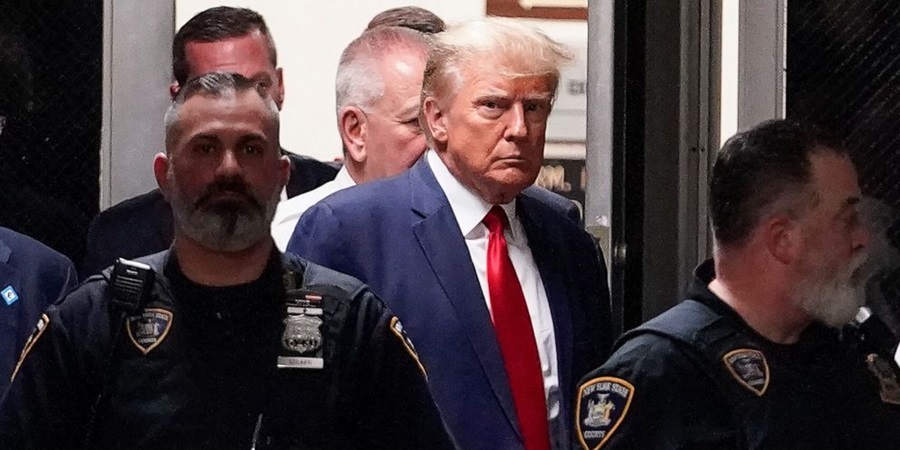 Krivično gonjenje bivšeg predsjednika SAD-a Donalda Trumpa prvobitno je podijelilo Amerikance, ali prema anketi objavljenoj u četvrtak, čini se da je povećalo njegove izglede za osvajanje republikanske nominacije za izbore 2024.
Anketa Reutersa/Ipsosa je provedena u srijedu i četvrtak, nakon što su tužioci u New Yorku u utorak podigli optužnicu protiv Trumpa za 34 kaznena djela krivotvorenja poslovne dokumentacije.
Istraživanje je pokazalo da 49 posto Amerikanaca smatra da je ispravno da tužioci pokrenu prvi krivični postupak protiv bivšeg predsjednika.
No ovo otkriće naglašava političku podjelu u mnogim stvarima koje se vrte oko Trumpa. Nekih 84 posto, onih koji su sebe opisali kao demokrate, reklo je da su optužbe opravdane, dok se samo 16 posto republikanaca složilo.
Otprilike 40 posto republikanaca reklo je da je zbog toga veća vjerojatnost da će glasati za Trumpa 2024., dok je 12 posto reklo da je zbog toga manja vjerojatnost da će ga podržati. Drugih 38 posto reklo je da to nije imalo utjecaja.
Trump vodi u izboru za republikansku nominaciju s velikom razlikom, a 58 posto republikanaca kaže da je on njihov omiljeni kandidat. To je porast u odnosu na 48 posto u anketi Reuters/Ipsos objavljenoj u ponedjeljak.
Guverner Floride Ron DeSantis, koji nije ušao u utrku, bio je drugi s 21 posto.
Dok su demokrati i republikanci duboko podijeljeni oko procesuiranja slučaja, istraživanje je pokazalo snažno uvjerenje da je Trump dogovorio plaćanja porno zvijezdi Stormy Daniels i manekenki Karen McDougal kako bi šutjeli o navodnim izvanbračnim vezama.
Oko 73 posto Amerikanaca vjeruje da je tako, uključujući 55 posto republikanaca.
Međutim, 76 posto republikanaca smatra da neki u policiji rade na delegitimizaciji Trumpa kroz politički motivirane istrage, u usporedbi s 34 posto demokrata.
Otprilike 51 posto svih ispitanika, ali samo 18 posto republikanaca, reklo je da bi optužbe trebale diskvalificirati Trumpa da se ponovno kandidira za predsjednika.